FOR A LIST OF COUNTRIES WHO NEED A VISA TO ENTER PANAMA: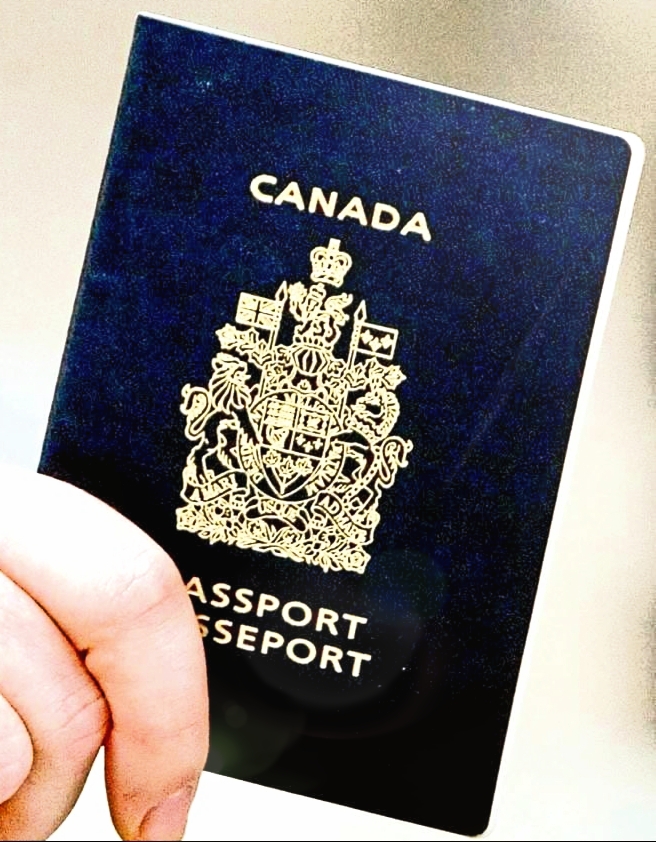 HOW TO REQUEST A VISA FOR PANAMA
Please note that it is the pilgrim and their group leader's responsibility to verify their need for a VISA to enter the various countries that will be visited during their pilgrimage, according to their package.
Please be aware that the pilgrim is responsible for making his or her own visa request (Panama and, if needed, a visa for any other country that he or she will visit during their pilgrimage, according to the chosen package).
It is important to wait to have all necessary documents before starting your visa request process. Sending an incomplete request could delay the request process or even lead to a refusal.
4720 Kingsway, Suite 2600, Burnaby, BC. V5H 4N2
+1.778.374.1772
panamaconsulatebc@outlook.com
The Consulate is open from Monday to Friday 9AM – 3PM PST
2788 Bathurst St. Suite 211, Toronto, ON M6B 3A3
+1.416.651.2350
info@consulatepanama.com
The Consulate is open from Monday to Friday 9AM – 2PM EST
1425 Blvd. René Levesque Ouest, Suite 602,
Montréal, QC H3G 1T7
+1.514.874.1929
consulado.pma.montreal@gmail.com
The Consulate is open Monday to Friday 9AM – 3PM EST
130 Albert Street, Suite 803, Ottawa Ontario K1P 5G4
+1.613.236.7177
info@embassyofpanama.ca
The Embassy is open from Monday to Friday 9AM – 4PM EST
In order to be exempted from the cost of the visa and be exempted from the Tourist Visa requirements the following procedure must be followed for NON-CANADIAN RESIDENTS participating in WYD and requiring a Visa to Panama.
When the data of all the group members who need a visa have been entered, the group leader can download and print an official document for each person.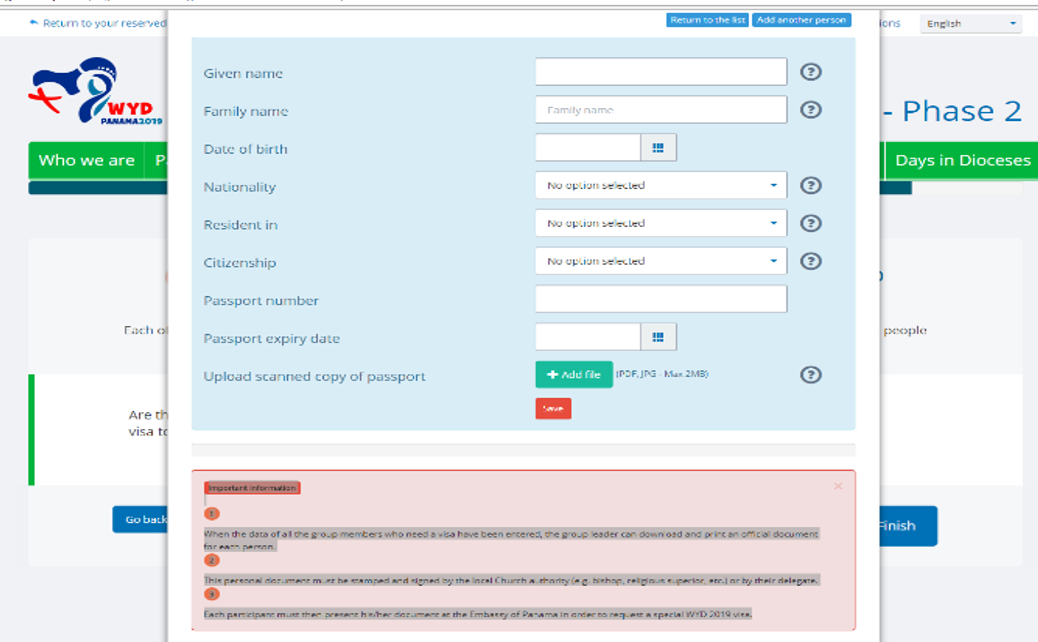 Given name
Family name
Family name
Date of birth
Nationality
Resident in
Citizenship
Passport number
Passport expiry date
Upload scanned copy of passport
The GROUP LEADER should send a list of pilgrims requesting a visa to the Canadian National WYD Delegate at wyd@cccb.ca using the Excel File filled out as part of the Panama WYD Registration process .
Please provide the authority from whom you are requesting a signature with a COPY of the information provided above, including current contact info as well as proof of purchase of travel ticket (Flight Itinerary)
Complete the stamped VISA APPLICATION FORM .
You will need : Original passport – (Passport must be valid for at least 6 months)
One recent photograph (Passport size on White background)
Proof of purchase of travel ticket (Flight Itinerary)
Proof of participation to WYD in PANAMA (obtained in Step1)
Each participant must then present his/her document at the Embassy of Panama in order to request a special WYD 2019 visa.
Must be completed prior to July 1, 2018